Skip to Content
Elegant Meeting Rooms for
Today's Leading Professionals
Every detail has been crafted to maximize your productivity. High-tech installments make communication easy and effective, while ergonomic chairs offer optimal comfort and refinement. Our versatile spaces make it simple to construct the perfect environment for large events, such as corporate training seminars, and even small events, such as intimate board meetings. All are furnished with elegance and professionalism in mind.
rows of desks and chairs setup with notepads and water facing a screen in the front of the room
Two (2) Amphitheaters
These large rooms, able to accommodate between 60 to 64 guests, offer the perfect space for training seminars and formal collaborations. High-tech audiovisual equipment and built-in white boards are ideal for visual-learning, while tiered desks and ergonomic chairs ensure a functional and comfortable layout.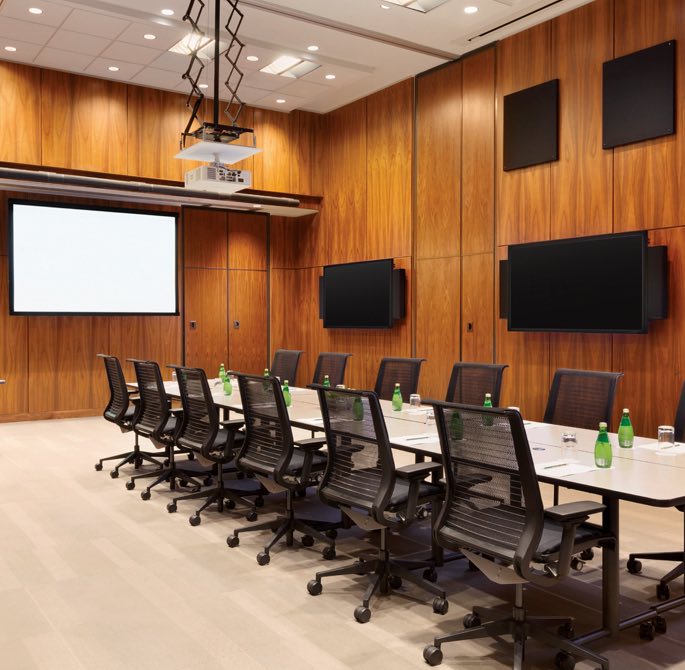 conference room with a long desk and chairs surrounding it is set up for a meeting with notepads and water on the table. A screen is in the front of the room.
Twelve (12) Boardrooms
Designed for intimate gatherings, these rooms are fitted with conference tables that accommodate up to eight (8) or more guests. Elegant decor, luxurious chairs and top-of-the-line audiovisual capabilities ensure an appropriate environment for today's leading professionals.
meeting space with different tables and chairs for people to have meetings in
Fifteen (15) Breakout Rooms
We have 15 well-equipped breakout rooms so your team can split off for one-on-one strategy sessions, then reconvene for the group events on your meeting agenda in their plenary room.
conference room with rows of chairs facing a screen in the front of the wall
Two (2) Flat Surface Meeting/Event Rooms
The layout of these rooms are designed to optimize space for large groups. Unlike our tiered amphitheaters, the level plain of these floors allows for various arrangements of desks & chairs to suit seminars, town halls, banquets or open-space networking events.