Skip to Content
Your Destination for Hot Topics at
Ivey Donald K. Johnson Centre
We're event professionals, dedicated to crafting the perfect occasion for our guests. With our blog, we aim to arm you with the same tips and tricks used every day to create unforgettable events here at Ivey Donald K. Johnson Centre. We hope you enjoy!
a group of food items
The Season of Christmas
Celebrate Toronto's festive season with the Cavalcade of Lights, Toronto Christmas Market, and a winter wonderland at Canada's Wonderland. Enjoy holiday shows, events at Casa Loma, and vibrant shopping districts for a magical experience in the city. Stay updated for a joyful celebration.
Learn More
a man and woman holding a cup of coffee
November in Toronto
November in Toronto, Canada, typically marks the transition from fall to winter. During your time in our City, here's what you can expect during this month
Learn More
a turkey on a plate
Exploring Canadian Thanksgiving: Traditions and Celebration
Canadian Thanksgiving, often referred by locals simply as 'Thanksgiving', is a national holiday celebrated in Canada on the second Monday in October. It is a time for Canadians to give thanks for a bountiful harvest and the blessings of the past year. Here are some key aspects and traditions associated with Canadian Thanksgiving:
Learn More
a crowd of people at a fair
Experience the Extravaganza: The Canadian National Exhibition
Let the workday go, and enjoy time out of the office! Step into a world of wonder and enchantment at the Canadian National Exhibition (CNE), a time-honored tradition that has been captivating hearts for years. This annual extravaganza transforms the heart of Toronto into a vibrant playground of entertainment, discovery, and community.
Learn More
a large green field with trees and buildings in the background
Discover Toronto's Enchanted Music Garden
Last month we visited Toronto's waterfront; whether on foot, on a bike, or on a beach towel, there's plenty to see and do, especially in the sunny summer season. One place we didn't mention, however, can appear almost hidden from view: Toronto's Music Garden. Some call it the city's secret garden, but the grounds practically sing. Read on to learn more about Toronto's hidden gem that floats on the inner harbor, and make a point to visit when you're here.
Learn More
a city skyline with a body of water in the foreground
Take in Toronto's Waterfront
Toronto's waterfront is the perfect getaway spot and it's just steps from the Ivey Donald K. Johnson Centre. A conveniently short walk away but also accessible by streetcar, the waterfront neighbourhood is the go-to place for a bit of nature in the heart of downtown Toronto. With waterfront trails and harbourfront watersport rentals, picturesque beaches, and parks with spectacular views, there are plenty of activities to fill an afternoon or weekend. So whether you're here for work or to attend an event, you've got to make time to explore. Read on to discover all the fabulous reasons why.
Learn More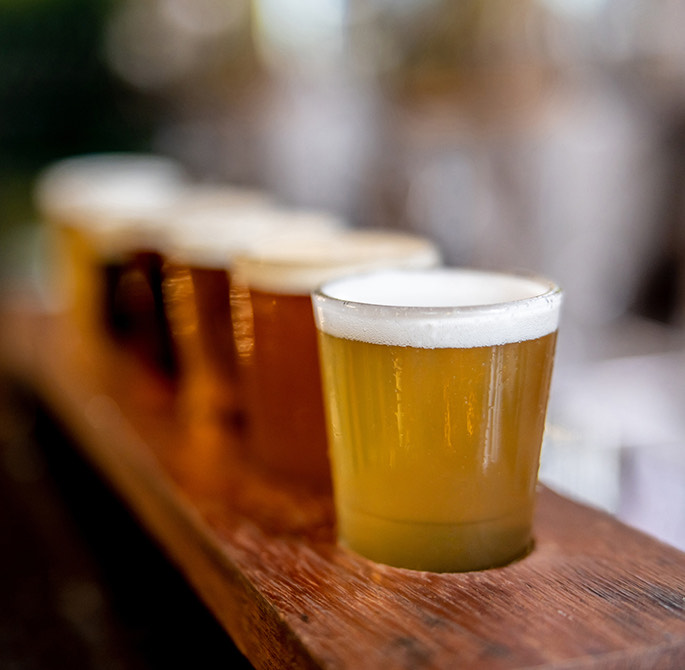 flight of beer
Take the Edge Off in Toronto's West End
Toronto's craft beer scene draws crowds from around Canada and across the border, too. So, with more sunny days on the way, we'd like to share with you our top 10 hip and happening watering holes in Toronto. Whether you're in the mood to grab-and-go from the bottle shop or taste-test different brews on a patio with a perfectly-paired meal, this list invites you to Toronto's best breweries and helps you enjoy refreshing drink after a work event at the Ivey Donald K. Johnson Center.
Learn More
buildings in tortonto city
To Market, To Market
Ready for Spring? We are, and we've scoured the streets to find the markets opening when the flowers do. Toronto's farmer and flea markets are just the thing to cure your end-of-winter blues, and we've lined up five for you to visit, all within a short drive or walk from the Ivey Donald Leadership Centre. We know you're not visiting long enough to stock a fridge with fresh fruits and veggies, prime cuts, and local dairy, but staying the night doesn't mean you can't at least sample all your favorites. Buy some cherries and a fresh pastry or a wedge of cheese and a croissant. The market draws Torontonians out of hibernation, and you're invited.
Learn More
Toronto skyline sunset
'Make It a Date' with Toronto
So you've had a long day at work. Maybe a long week. You don't want date night to feel like work, too, do you? It's time to spice up the 'ol dinner and a movie routine and get out there to see what the city of Toronto has on offer. Lucky for you, it's the perfect place to get adventurous with your romantic endeavors; whether you're shaking off those first date jitters with a champagne toast or breaking things at a real life "rage room," get out of your comfort zone and get into some fun. You deserve it! Here are our Top 10 totally unique date ideas:
Learn More
ice skating rink outdoors during the night
Get Inspired to Skate with The Nutcracker
Don't delay! It's standing room only for this season's run of a timeless holiday event. The Globe and Mail hailed this troupe's performance as "the best Nutcracker on the planet," and it's waltzing smack dab through the center of Toronto. Come see the Nutcracker and be inspired to skate your way through our winter wonderland of a city.
For ballet enthusiasts and Christmas traditionalists alike, a night at the theater with Tchaikovsky can be as important a celebration as decorating a Christmas tree. It just so happens the National Ballet of Canada has once again invited James Kudelka to the stage to enchant audiences with his famed adaptation that puts a Canadian spin on the Russian classic including snowballs, dancing bears, and farm animals.
Learn More
a couple buying stuff with winter garments at night
Explore the Distillery District's Winter Village
Toronto's most magical holiday shopping experience is open for business once again! Come visit the city's famed Distillery District between November 17th and December 31st to experience the one-of-a-kind, Christmas tradition, Winter Village.

If you enjoy visiting the Distillery District every other time of year, with its chic vibes and bohemian energy, you'll love it when it's twinkling in the snow. Get your tickets now, or visit when it's free; whatever you do, don't miss it!
Learn More
toronto view from sky with fall trees
Breath in the Best of Fall
Autumn breezes wrap Toronto in an exciting season of colorful sights, A-List events, and countless fall festivities you simply can't afford to miss while you're here. Indeed, as the leaves turn Insta-worthy colors, our city becomes an even more vibrant hub of activity. From major league sports and celebrity spottings to tried-and-true October favorites like Halloween haunted houses and pumpkin patch hay rides, fall in Toronto isn't only idyllic, it's magical. So, to make sure you don't miss the highlights, we've listed some of our favorite Fall foods and festivals, sights, and sports here for you. Grab what appeals to you, block out some time, and make memories!
Learn More
people sharing cafes in a garden
Discover Toronto's Hidden Cafes
Just as the weather begins to turn, it might feel right to cup your hands around a mug of coffee or hot cocoa. But even if you're holding on to the last rays of summer, this list of Toronto's hidden cafes is sure to give you something to look forward to when autumn settles in for good.
Toronto's cafe scene is exploding so choosing where to buy your perfect cup is getting harder, especially if you want to sit and sip where you shop. From the outside, it may not seem like many cafés offer patio dining, but many have secret patios tucked away in the back or high up on rooftops. Lucky for you, we know the best of the lot and have shared our top five with you below.
Learn More
woman at a cinema watching a movie and some other people in the distance also watching
The Toronto International Film Festival
Grab a friend and get your popcorn! The Toronto International Film Festival (TIFF) is back in person this year, meaning you get to see some of the year's greatest films up close and personal. Lucky for you, the Festival is right in downtown Toronto! That means, that when work brings you to the Ivey Donald K. Johnson Center, the TIFF will be right in your backyard. It's a rare opportunity when the world comes to you, and one you don't want to miss.

Regarded as one of the most prestigious international film festivals in the world, the Toronto International Film Festival draws more than 100 thousand guests. For 11 days, movie buffs, filmmakers, industry professionals, and media from around the world come to Toronto to watch the best in the new cinema. Films from new producers and directors as well as seasoned and award-winning filmmakers are selected for the Festival based on quality and originality. Preference is given to premieres, and support is given to Canadian filmmakers seeking industry inroads.
Learn More
carrousel roof decorated with painted women in a sunny day
Let's Go to the Canadian National Exhibition!
The countdown has begun for Canada's biggest fair of the year, and you're invited!

Join the nearly 1,500 daily visitors and enjoy dozens of events, food vendors, marketplaces, live music performances, and more. Affectionately known amongst locals as "The Ex", the Canadian National Exhibition (CNE) is one massive party you don't want to miss.
The 18-day expo is the event that gave its home– Toronto's beloved Exhibition Place– its name. But the event itself has evolved over time. The first Canadian National Exhibition took place in 1879 with the goal of promoting Canada's agriculture and technology industries. The one-of-a-kind showcase for innovation featured farmers, engineers, and scientists all demonstrating their discoveries and inventions to the masses.
Learn More
girl with glasses smiling with a lentil jacket at the night
Salsa In Toronto and the Caribbean Carnival
Canada's largest Latin culture celebration returns this summer with the TD Salsa in Toronto Festival featuring the annual "TD Salsa on Saint Claire Street Festival" that totally transforms a stretch of Saint Claire Avenue West to become Canada's biggest street party of the year.
Feel that rhythm? Feel that beat? It's that time again! Get ready for non-stop dancing in the street at the Salsa in Toronto Festival featuring an international calibre of Latin music, Latin foods, and feel-good fun for all ages. All the way from Winona Drive to Christie Street in downtown Toronto, more than two dozen bands perform live for audiences on Saturday and Sunday, July 9th and 10th, from noon to 10 pm. And all of the performances are free! This year's lineup includes Salseros with Attitude, La Buriqueña, Ricardo Barboza, Kumbé Show, Lu Jayan y Su Clan Latino, Bachata Infinity, and more! Sound like fun? Make plans to get here for the party in 2023!
Learn More
a TORONTO sign lit up on a lake with lit up hi-rises in the background during night time
Festival Season Returns to Toronto!
We've waited patiently for two years before returning safely to in-person events. Finally, this summer, Torontonians are celebrating the end of the wait with a series of spectacular street festival favorites including the Luminato, Toronto Jazz, and Pride festivals. Read on to learn more about them, and to make plans to attend!
Luminato Festival – You've just got to be here – 11 days of concerts, dance, theater, music, art, and literature all for free! An international arts festival dedicated to performance, media and visual arts, and programming, the Luminato Festival cuts across traditional artform boundaries to highlight emerging artists from around the globe as well as those getting their start right here in Canada. The event was founded in 2007 as a way to jumpstart the city after the SARS epidemic by shining a spotlight on Toronto as a culturally vibrant and globally-connected city rich in creativity. Ever since, Luminato grew to become one of the preeminent international arts festivals in North America, with more than 3,600 performances featuring 15,000+ artists from more than 40 countries. For detailed information about what's happening now through June 19th, visit the event's official website and plan your visit today!
Learn More
city with long buildings and cars in the streets
Doors Open Toronto
Ever walk by a building within Toronto and wonder what it would be like to go inside? Perhaps the sprawling Aga Khan Museum, Saint Paul Basilica, or Canadian Water Landmark R. C. Harris Water Treatment Plant? Well, this month Toronto will hand you the keys as the doors to the city swing wide open for a sneak peak inside.
As part of the annual Doors Open Toronto event, Torontonians will once again gain rare access to some of the city's most interesting sites. One weekend a year, since 2000, nearly 700 different and unique locations have opened their doors to visitors, indulging curious minds to rediscover Toronto in a way that has never before been possible.
This year, 103 locations have been pinned on the map with each one featuring significant architectural and cultural implications for the city's urban design and planning and the way people live and work in the city today and in the future. Visit the Doors Open Toronto website to find a list of participating venues and every detail you might want to know about each, including the address, its architectural design and building type, year of construction and visitors' website.Many of the locations will offer engaging tours and insightful talks. Some will offer virtual experiences as well.
Doors Open activities will take place between 10 am and 5 pm on May 28th and 29th, with most of the venues opening their doors both days. Don't miss your chance to get an inside look at some of Toronto's most exclusive destinations!
two men and a woman drinking beer
Take the Edge Off in Toronto's West End
With the craft beer scene drawing crowds from around Canada and across the border, we'd like to draw you to one of our favorite spots in Toronto. Bellwoods Brewery in the hip and happening West End is a top choice amongst tourists and locals alike.
More sunny days are on the way, and we've noticed the patio of Bellwoods Brewery is beginning to fill up again. Quaint and welcoming, the award-winning brewpub on Ossington Avenue invites passers-by to its picnic tables where they can sip and stay awhile. Lining up to enjoy a crisp and refreshing craft brew on the outdoor patio is a true Toronto experience that's guaranteed to put your day of hard work behind you. With beer names like Witchshark, Grandma, and Jelly King, there's sure to be a flavor to suit your mood. If you don't have time to wait for your seat, pop in next door to the bottle shop where you can grab a bottle or can to go. Come thirsty; leave satisfied!
beets and other vegetables at a farmers market
Think Spring at the St. Lawrence Market
Itching for spring?! Us, too. So we've got just the thing to cure your end-of-winter blues. A visit to the St. Lawrence Market on Front Street East will give you the taste (literally!) of the sunny days ahead.
We know you're not visiting long enough to stock a fridge with fresh fruits and veggies, prime cuts, and local dairy, but staying the night doesn't mean you can't at least sample all your favorites. Buy some cherries and a fresh pastry or a wedge of cheese and a croissant. The market draws Torontonians out of hibernation. Nestled into the city, just east of the Old Toronto district, it's been Toronto's culinary hub since 1803. Open to the public each day from Tuesday to Saturday, the market complex has more than 120 specialty vendors as well as an old fashioned Saturday farmers market replete with an exhibition space for cooking classes and demonstrations. Even if you aren't hungry, it's worth stopping by for a look and a few photos to absorb all the color, texture, mouthwatering smells, and positively vibrant energy it has on offer. We'll gladly point the way; just ask our concierge.
toronto winter street
Bloor West Village Scavenger Hunt
Last month we shared with you all of our favorite ice rinks, but there's more to winter than skating! Thanks to the hard work and creativity of some Torontonians, there's buried treasure under all this snow and we know where to find it.

Our neighbors in Bloor West Village have organized the Winter Cheer Scavenger Hunt that runs through the end of February. The interactive event is a socially distanced, self-guided, outdoor excursion that its creators say is, "fun for all ages and the whole family, pets included!" Using the Goosechase App, you'll be asked to wind your way through the charming village to find the cute and cuddly animals that have been tucked into local storefront windows and then solve the riddles that go with each display. Addresses for featured window art are listed on the event website. By finding the animals and answering the questions, you'll complete the scavenger hunt and be entered to win cash prizes. Support the small business owners in Toronto's Bloor West Village shopping district and have fun along the way. Stay with us and find gold; winter cheer starts here!
a girl tying her ice skates
Come to Toronto and Skate to Your Heart's Content
The ice is open! Even amidst city-wide closures, skating rinks remain a safe and healthy refuge for Torontonians. So whether you need to rent a pair of skates to spin through Nathan Phillips Square or have your own blades to glide under the brick arches, Toronto invites you to carve a path through the ice. Here are our top 5 rinks to visit this winter.
Our first stop is Nathan Phillips Square. A reflecting pool in the summer, this downtown landmark is a local favorite. Hosting skaters since the 1960s, its pristine surface is crowned by the Freedom Arches monument, which includes a piece of the Berlin Wall. Rent skates or sharpen your own. Next stop, Greenwood Park. A baseball field-turned ice rink, this artificial landscape offers a double feature with a
215-meter outdoor skating path right alongside it. Colonel Samuel Smith Park is our number three. It was Toronto's first ice skating trail, a figure-eight shaped track near the Power House Recreation ...
Learn More
christmas lights outside in toronto
Experience the Magic of the Distillery District Winter Village
Toronto's most magical holiday shopping experience is open for business! Come visit the city's famed Distillery District Winter Village and feel the glow of lights and decorations strung above the snow just for you!

Home to theaters, art galleries, restaurants and more than 40 boutiques and one-of-a-kind shops, the Distillery District aims to inspire the happy, hungry artisan shopper. And now that it's decked in red and green, the cobblestoned neighborhood of lofted warehouses and picture windows feels every part of a picture-perfect holiday retreat. Expect the Winter Village's live music to lighten your steps as you check off your gift list thanks to handsomely designed items made by more than 75 local merchants. Holiday shoppers are sure to find what they're looking for with shops full of the latest fashions and uniquely curated crafts and home decor, festive accessories and jewelry, one-of-a-kind art, luxurious self-care products and services, and more.
Learn More
holiday light tunnel
Experience "Snow Magic" from the Comfort of Your Car
Tired after a long day of work, but still want to get out and see Toronto sparkle? We've got an idea that's sure to dazzle your imagination without having to get out of the car.
"Snow Magic" is back and brighter than ever. Currently open until mid January, with its home at the Ontario Place, this winter wonderland is a dreamscape of fairy-tale creatures and holiday scenes all aglow with millions of twinkling lights. There are 18 fantastical artworks to ogle from the comfort of your car, all spread along a winding mile of enchanting, drive-thru fun.
Ticket holders will traverse three magical realms, Celestial, Terra Firma, and Oceanic, each creatively designed to represent their name. Fly through the starry night sky in the first, explore mother earth with its incredible creatures, castles and frosty wonders in the second, and dive into a gleaming grotto to see creatures of the deep in the third. You'll end on land, of course, but perhaps with your head still in the clouds. Tickets are ...
Learn More
ivey_october blog_istock 616263764
The Best of Fall in Toronto
With crisp air and colorful foliage, autumn is a truly spectacular time in Toronto. Check out this guide for the best fall sights and activities to add to your itinerary.
To See
Vibrant shades of red, orange, and gold paint the Toronto skies each fall. Explore the city's best spots to see the fall colors.
High Park
Just west of downtown, you'll find vibrant leaves dancing around the ponds of Toronto's largest public park, also known for its spring cherry blossoms.
Toronto's Islands
Fall is the ideal time to explore Toronto's Islands, with smaller crowds than the summer months. Take a 13-minute ferry ride from downtown and take in views of the Toronto skyline while the colors of fall surround you.
Rouge National Urban Park
Just north of Toronto, discover breathtaking ravine cliffs and walking trails lined with vibrant maple and oak trees.
Learn More
ivey_tiff blog_istock 1081932180
The Toronto International Film Festival 2021
The 46th annual Toronto International Film Festival is just around the corner. As one of the largest film festivals in the world, TIFF is recognized for giving a platform to emerging filmmakers and diverse voices. During this ten-day event, underrepresented voices are pushed into the spotlight as audiences are exposed to compelling stories from around the world. While attendees marvel at talented filmmakers who dare to surprise us, new filmmakers are able to take advantage of the festival's immersive Talent Development programs.
TIFF will be held from September 9 through September 18 at the TIFF Bell Lightbox in downtown Toronto. With the return of indoor theatres, TIFF will take the form of a hybrid celebration, with a combination of live and virtual events. Festival-goers can attend in-person screenings at drive-in cinemas, open-air cinemas, and indoor theatres, including Festival Village at Ontario Place. Online screenings will be available across Canada through the TIFF Bell Lightbox.
TIFF is a cultural event deeply intertwined with the Canadian arts scene. Its ripple effect impacts the film industry on a global scale. If the Toronto International Film Festival falls during your visit to Toronto, consider yourself lucky. Attend a screening or seminar and cross an item off of every Canadian's bucket list.
pathistock 144187815
Toronto's PATH: An Underground City
While traversing through the city of Toronto, you may have come across our underground PATH, a pedestrian walkway that connects transit systems with indoor concourses like clothing stores, coffee shops, food courts, and commercial and financial institutions. You can also access some of the city's most iconic tourist attractions through the PATH, like Eaton Centre Mall, Scotiabank Centre, Hockey Hall of Fame, Rogers Centre and the Toronto City Hall.
An attraction in its own right, The PATH holds the Guinness World Records for the largest underground shopping complex in the world, with 30 kilometers of interconnected commercial space. Thousands of subway passengers use the thoroughfare every day to reach their workplaces. The underground concourse reduces crowds at the street level and offers pedestrians added comforts with air-conditioning in the summer and heat in the winter.
While the many twists and turns of the underground PATH may feel like a maze to first-time travelers, the convenience is unmatched. No matter what you are looking for, there is a very good chance you will find it along the PATH.
image of yonge street at night
Yonge Street: A Toronto Legend
During your time in Toronto, chances are you'll find yourself on Yonge Street, the most iconic thoroughfare in the city and one of the most famous in Canada. Until 1999, Yonge Street held the official record for the longest street in the world. The Guinness designation sparked a controversy that has persisted well after it was lost to the Pan-American Highway. The official length of Yonge Street is 1896 km, extending from Toronto's Lake Shore to the U.S. border in Rainy River, Ontario. Yet, many Canadians have conflicting views on whether Highway 11 should be included in the total length. If Highway 11 was omitted, Yonge Street would only span about 56km.
Long before it was a bustling commercial street, Toronto's portion of Yonge Street was known to indigenous peoples as the "Carrying Point Trail." John Graves Simcoe, Ontario's first lieutenant governor, learned of this passage and proposed a strategic military route to protect against U.S. invasion. Construction was completed three years later, in 1796. Eventually, Simcoe expanded his route and finally named it Yonge Street after his friend Sir George Yonge, a secretary of War in the British Cabinet.
Aside from its rich history and legendary tales, Yonge Street offers extensive leisure and entertainment options. Check out the Hockey Hall of Fame to learn more about our national pastime or explore hundreds of shopping and dining options inside Eaton Centre. Then stop by Yonge-Dundas Square for free outdoor events or catch a performance at one of Yonge Street's world-class venues.
istock 92010211
Toronto: A Cosmopolitan Babel
On any given day, a stroll through downtown Toronto will expose you to a world of languages that span the entire globe. In fact, Toronto is the most linguistically diverse city in Canada and one of the most diverse in the world. According to a 2011 census, Approximately 200 different languages are spoken here, and 45% of the residents speak a native language other than French or English. Here are a few of the most spoken languages to listen for:
Italian
With a whole district historically dedicated to their culture, it's no wonder Italian is one of Toronto's most widely spoken languages. Over 40,000 Italian immigrants arrived here between 1914 and 1918 after an economic depression in Southern Italy left them impoverished. Today Little Italy is more diverse—a large population of Spanish and Portuguese speakers has moved into the neighborhood—yet the heritage is unmistakable. Enjoy some of the best authentic Italian cuisine at a trattoria and end the night with an after-dinner stroll with gelato.

Tagalog
Perhaps the most surprising and fastest growing community of foreign-language speakers is Filipinos. Between 2011 and 2016 alone, more than 15% of new immigrants settling in Canada were Filipino, bringing their mother tongue Tagalog and delicious pancit and chicken adobo with them. Near the centre of Toronto's Filipino community is the Kapisanan Philippine Centre where visitors can learn about traditional Filipino art and culture. You'll know you're in a Filipino restaurant or small business when you're greeted by a warm smile and friendly greeting of, "Mabuhay!"

Chinese (Mandarin and Cantonese)
The Toronto Chinese community is so prevalent that two Chinese languages take second (Mandarin) and third place (Cantonese) among the city's most widely spoken languages. If you're looking for authentic Chinese culture, you have two communities to explore in the Greater Toronto Area. The first is in Markham where you can visit the mega Pacific Mall—one of the largest indoor shopping centers of all cultural groups. The second is Chinatown, located between Queen St and College St, considered to be one of the largest concentrations of Chinese outside of China.
So as you explore the delicious global cuisines and cultural neighborhoods that permeate the city, listen closely and try to recognize a few of the mother tongues that call Toronto their home.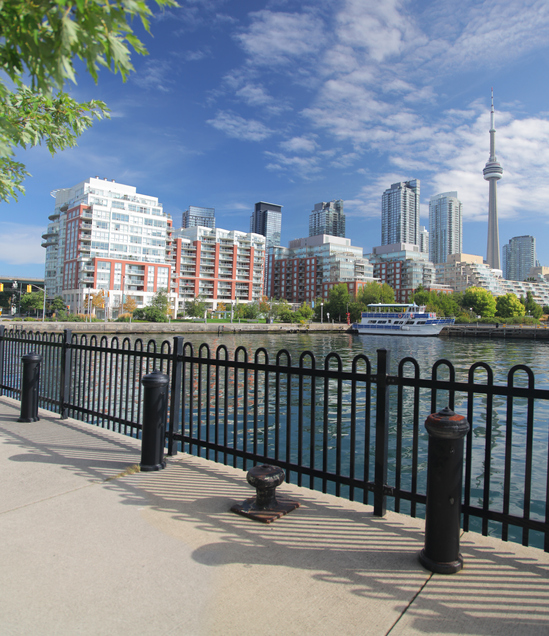 Toronto Waterfront
The Shifting Identity of Toronto's Harbourfront
Like many great cosmopolitan cities, Toronto's waterfront has always been one of its most defining characteristics. But the sparkling 46 kilometres of urban shoreline that you see today has come a long way throughout history and continues to be as transformative and iconic as Toronto's skyline. Today, we'll explore the shifting identity of one of the city's greatest attractions, starting at the birth of Toronto herself.
After the American Revolution, Toronto gained importance as a place to expand the fur trade and as a settlement. The British, wanting to enable the movement of supplies and troops to Lake Ontario, began constructing Fort York in 1793—now considered the birth of urban Toronto.
Up until the 1840s, the harbourfront flourished as a marine shipping hub. However, the lack of available land along the waterfront severely limited the city's growing industrial, shipping, and railway infrastructure. Beginning in the 1850s and for the next hundred years, the shore was extended farther and farther south until the 1950s where Front Street was built along the edge of the shoreline, as we know it today.
After the Second World War, industries took over the waterfront, making it an undesirable place to live. It wasn't until the 1970s that Toronto began redeveloping the waterfront as a sort of regeneration project that catapulted the city's status to being a world-class destination, attracting more residents, more jobs, and of course, more visitors.
And now, Toronto is home to one of the longest and most recently developed urban lakefronts in the world, resulting in the pristine attraction-filled hub of culture and tourism you see today. As you explore Harbourfront Centre, Queen's Quay Terminal, and the plentiful green spaces and beaches that border the city, think back to a time when this was all water in the harbour, and imagine all the change left to come.
Toronto Island Park
Toronto: A City Within a Park
With over 1,500 parks covering 8,000 hectares of Toronto, it's no wonder how the city earned its reputation as a "city within a park." As the snow continues to melt away and the trees begin to don shades of verdant green, take a moment to stretch your legs between meetings and find respite in the picturesque parks hidden within Toronto's urban jungle. Here are just a few of the well-known ones for your consideration:
High Park
Toronto's largest park is a true escape for nature enthusiasts looking to not only take a stroll but discover an incredible concentration of rare plant species along the way. Famed for its charming cherry blossoms and lakefront views, High Park is also jam-packed with modern amenities like sports facilities, restaurants, and even a mini zoo.
Toronto Island Park
For complete parkland immersion, hop on a ferry to the 600-acre Toronto Island Park. Complete with bike and boat rentals, trails, and even an amusement park with over 30 rides, the island is easily an all-day affair. If it weren't for the spectacular Toronto skyline as your backdrop, you'd easily forget you were anywhere near a cosmopolitan city.
Trinity Bellwoods
A quick drive down Queen Street West will take you to Millennial-favorite Trinity Bellwoods. Steps away from Queen's trendy boutiques and dining scene, this 14.6-hectare park offers three baseball diamonds, eight tennis courts, two volleyball courts, a picnic area, a wading pool, and an artificial ice rink in the cooler months. Layout your picnic blanket and try to spot the elusive white squirrels who have made Trinity Bellwoods their permanent home.
With outdoor activities seemingly being the norm for the near future, whether the park closest to your location is big or small, why not make use of nature's wonders at any of the City of Toronto's parks. You will certainly enjoy the natural beauty and its serenity of these scenic wonderlands without having to leave the City.
St. Paul Basilica
Honor Toronto's Irish Roots Around The City
On one special Sunday every March, the streets of Toronto erupt into a shamrock-green cavalcade, celebrating the Irish's vibrant culture. While our annual St. Patrick's Day Parade may be canceled, the history of the Irish's migration to Canada is still evident throughout our city if you know where to look. Honor their 200-year history on your own walking tour to these Irish-Canadian landmarks.
St. Paul's Basilica: Toronto's oldest Roman Catholic church served as a familiar comfort for Irish refugees escaping the Great Famine in 1848. At the front of this Italianate structure, designed by Irish-Canadian architect Joseph Connelly, is a monument resembling Michelangelo's Pietà. The sorrowful statue is dedicated to victims of the Famine and Toronto's first Bishop, Michael Power, who ministered many refugees coming off the boat.
Adelaide and Berkeley Streets: Owning a home was every bit a dream to the Irish as any Torontonian. When around 40,000 Irish immigrants passed through Toronto in the 1800s, some stayed and lived in Irish tenements on the intersection of Adelaide and Berkeley while they awaited their homes to be built. Though most of the houses standing today were built after the immigration boom, they still reflect the character of the streets when they were a predominantly Irish area.
Cabbagetown: When the impoverished Irish set up homes here in the 1940s, they grew cabbage patches in their yards to the amusement of Toronto's elite families. The once derogatory nickname has risen to become the name and symbol of one of Toronto's most beautiful neighborhoods with an ornate cemetery that serves as the eternal resting place of 281 nameless Irish graves from the Famine.
toronto winter street
The Beauty of Unity in Toronto
Over the past several months, we hoped you've enjoyed our monthly blogs featuring the sights and sounds of our beautiful City of Toronto. For this month's posting, we would like to do things a little differently and feature regular people like you and me who also make a valued contribution to our beloved city's offerings.
From the public transport driver who takes pride in carrying us from place to place to the restaurant chefs that prepare their exquisite meals, we've all been doing our part in making the City of Toronto what it is today.
Regardless of the circumstances that we may be faced with, we all stand resilient and still do what we can to make the City of Toronto the place to do business, to sightsee, to shop, or simply, to sit back and just relax.
This, we guarantee will never stop.
As we all look forward to seeing how this new year will turn out, you can rest assured that we will be here for each other, just as the City's offerings have always been here for us all to enjoy.
christmas tree outside of castle
Casa Loma: Holiday Lights to Hollywood Nights
For a fairytale beginning to the New Year, consider a visit to the nearby Casa Loma, just a 15-minute drive away from our Toronto convention center. Experience the magic of this enchanting winter wonderland as you wander through a dazzling display of lights. This year's theme, Holiday Lights to Hollywood Nights, takes visitors on a 2km self-guided walk through the castle's outdoor gardens and grounds and will be on display from January 24th, 2021 to February 14th, 2021.
Traverse the winding stairways and secret tunnels of Casa Loma while taking in a spectacular array of holiday-themed settings and meticulously decorated trees. The tour is designed to keep guests safe and socially distanced and promises to be fun for all ages.
Doors open at 4:00 pm daily and tickets start at just $35 per person, with the option to upgrade. The Premium package includes hot chocolate and cookies for just $8 more and is well worth the splurge! Tickets must be purchased in advance and are date and time-specific. Children 3 and under are complimentary. For more information and to purchase your tickets online, visit the Casa Loma website here.
Toronto ice rink
Skating Through the Sixth
Skating outside in Toronto's fresh winter air is one of the best activities you can do in December—when the snow is newly fallen and the Christmas spirit is in full effect. Though this year looks a little different from the rest, you can still book a session at one of the city's 54 outdoor skating rinks, allowing everyone to skate safely and remain a healthy distance apart.
Every rink has something different to offer, whether it be a border of lush evergreens or the glittering lights of a city center. Here are a few of our favorites:
Colonel Sam Smith Skating Trail
Not your typical ice rink, this was Toronto's first figure eight-shaped skating trail. It's easy to forget you're only 15 minutes from downtown when you're skating by all kinds of nature and wildlife peeking through the snow.
Paul Quarrington Ice Rink
Discover the best skyline views of Toronto's east side as you glide across the ice at this rink named after a Canadian musician, author, and filmmaker. Just a 7-minute drive from our center, you can't go wrong with this waterfront rink set on an award-winning park.
Nathan Phillips Square
For the quintessential downtown atmosphere and beautiful Christmas decor, skating in Nathan Phillips Square is an absolute must. Usually the most crowded rink of all, you can take advantage of the 25 person limit and experience Toronto skating like never before.
toronto skyline winter
Walking in Toronto's Winter Wonderland
Maybe it's the friendly pedestrians, the stunning variety of architecture, or the characteristic neighbourhoods that make Toronto the perfect walking city. As the holidays approach and snow begins to decorate every surface, Toronto becomes an urban winter wonderland that must be experienced on foot to truly be appreciated. With your cup of coffee or tea in hand, explore these captivating Toronto streets this fall and winter season.
Queens Quay West (The Waterfront): It's easy to forget Toronto is a lakeside city amid all the skyscrapers in the financial district. Escape to Queens Quay West, less than two kilometres from the conference centre. This waterfront promenade offers breathtaking views of Lake Ontario. When the lake freezes over and the Toronto Islands sparkle in the distance with new-fallen snow, you'll discover a serene kind of charm that only a few get to experience if they know where to look.
Tank House Lane (Distillery District): Nothing feels more like the holidays than the cobblestone streets and Victorian Industrial architecture of this historic district. Founded in 1832, what was once the world's largest distillery is now an artisanal playground with one-of-a-kind shops and restaurants. On Tank House Lane, snap pictures in front of the distinct red bricks and green window trimmings of the district's refurbished buildings, or discover new art installations that change throughout the year.
King's College Circle (University of Toronto): This lamppost lined street on the campus of Toronto's oldest university could easily be mistaken for Hogwarts. Beautiful lawns, soaring trees, and classic architecture (preserved from the 1800s!) make this the most magical street for any time of the year. In the fall, the trees erupt into a kaleidoscope of reds, golds, and greens. In the winter, the warm glow of the lampposts and the snow-coated turrets and towers are straight out of a frozen fairytale.
image of bell lightbox for tiff
TIFF 2020
Every fall, right after Labor Day, one of the biggest events on the film calendar, and on Toronto's, kicks off. Widely known by its acronym, TIFF, the Toronto Film Festival creates transformational experiences for film lovers and creators of all ages and backgrounds.
Since its launch in 1976, the 10-day event has become one of the largest and most prestigious in the world, driving emerging filmmakers onto the scene. But for your average moviegoer, the festival's importance is derived from its reputation as the unofficial kick-off to the "prestige movie season." Thus, keeping an eye on what's buzz-worthy at TIFF may tell you a lot about what films will be part of the awards chatter later on in the year.
TIFF's 45th edition will take place now through September, 19th and, like most events in 2020, will be tailored to fit the moment. The now physical and digital Festival will feature drive-ins, digital screenings, virtual red carpets, press conferences, and industry talks. And, most importantly, its programming teams are committed to curating the most memorable experience possible for audiences through a diverse selection of high quality films from around the globe.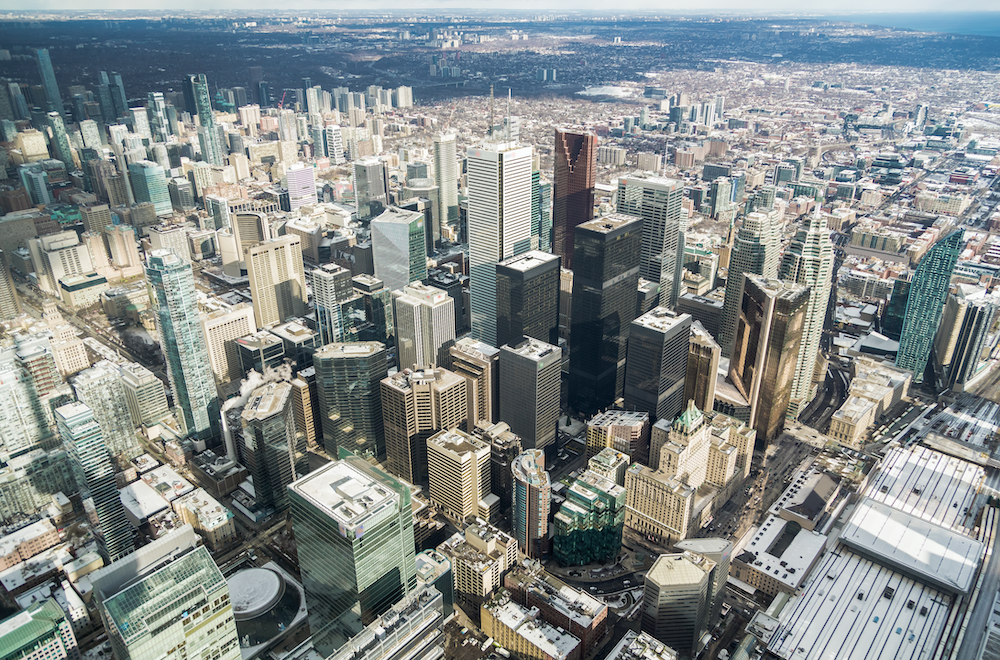 a photo of torontos skyline
These Are a Few of our Favorite (Toronto) Things
We've said it once, and we'll say it again: Toronto is arguably one of the most interesting places in the world. In fact, there's so much to be said about the 6ix, that we've narrowed down quite possibly our favorite things about it.
Kaleidoscope of Cultures
The people of Toronto have a way of making you feel at home, no matter where you're from. This not only has to do with the city's friendly nature (seriously, don't be surprised if a complete stranger gives you a compliment), but also because of the fact that almost half of the city's population aren't locals. In fact, if you listen close, you can hear over 180 different languages on the streets.
Go Leafs, Go!
As the only Canadian city that's represented in seven major sports, Toronto's fans are the most spirited—and loyal. Take the Toronto Maple Leafs, for instance. They're considered to be one of the worst teams in the NHL and haven't won a Stanley Cup since 1967, yet tickets to their games are continuously sold out.
Bon Appétit
Home to over 8,000 restaurants with various international cuisines, you certainly won't go hungry here in Toronto. No exaggeration, it would take you approximately 22 years to try and visit them all if you dined at a new one every night. We're in, who's coming?
a photo of toronto
Toronto's Early Beginnings
Though it may come as a surprise to many, Toronto's history is actually one of humble beginnings. What was once a fur trade center and safe haven for the British has now become a multicultural hodgepodge of New World seekers and a prominent North American city. Today, the vastly unique city boasts vibrant communities while retaining several historical reminders of its past. Let's take a look back in time of how Ontario's capital came to be.
Long before the residents that occupy the land today knew about Lake Ontario, Native Americans inhabited the region, specifically the Iroquois and the Hurons. They typically used the area as a shortcut between lakes and referred to it as "Tkaronto", which meant "trees standing in water". This nickname was re-shaped through tongues of French explorers along with subsequent British settlers to create what we call the city today.
Toronto's landscape today can be credited to the melting of ice from the past glacial age. A glacial lake referred to as Lake Iroquois, much larger than present-day Lake Ontario, existed in its place around 11,000 years ago. The lake waters receded with the opening of the St. Lawrence River, dropping in excess of 300 feet below the surface. Once the water levels rose to the present condition over time, a marshy shoreline with a fine natural harbor was left. Though the city is almost uniformly flat, there is a fairly sharp rise inland, which is undoubtedly the shoreline elevation of the former glacial lake.
Along Dundas West and St. Clair West between Keele St. and Runnymede Road, there is a residential neighborhood known as "The Junction." Home to popular restaurants and local watering holes, this area used to be one of the most well-known manufacturing hubs featuring several assembly-line factories. At one point, the area was home to Canada's largest livestock market.
a photo of torontos skyline
6 Facts About The 6ix
Arguably one of the most interesting places in the world, Toronto's history is so rich and extensive that there's always at least one fact about the city that takes people by surprise. Enjoy these six facts about "The 6ix" that will make you never forget this magnificent city.
1. Toronto is home to one of the tallest buildings in the world: the National Tower of Canada (CN Tower). With a total height of 553.33 meters, it stakes its claim in the Guinness Book of Records.

2. The city is one of the most popular places for movie production! About a quarter of Hollywood films are actually filmed in Toronto.

3. You can hear over 180 different languages and dialects when you visit Toronto, as more than a third of its residents speak a language other than English and French.

4. There are 52 outdoor skating rinks in Toronto, one to be enjoyed for every week of the year!

5. Housing 16,000 animals of 491 different species, The Toronto Zoo is the largest zoo in Canada and the third-largest zoo in the world.

6. Though the reason for the city's ever-popular nickname, "The 6ix", is still up for debate, the creator behind this phenomenon is none other than Toronto-born, Grammy award-winning artist: Drake.
cn tower and toronto harbour reflection
See the Sea at Toronto's Harbour
Toronto Harbor is fresh and open and beautiful. Locals and tourists alike might agree it's one of the most picturesque spots in the city, and, it's less than a mile from the Ivey Donald K Johnson Centre. From the shoreline path, take in sweeping views of Lake Ontario and the Toronto Islands. If you feel a slight rise and fall in the path, you are right! The city named the path the Wavedeck, incorporating gradual ups and downs to resemble the rising and falling waves on the lake. Along your way, divert to visit one of the adjoining parks. Stop off at Music Garden, co-designed by YoYo Ma, to 'see' the six movements of Bach's Suite No. 1 in G Major. Or make a stop farther along at Ireland Park to reflect upon a monument honoring the nearly 40 thousand Irish immigrants who fled to Toronto during the Great Famine. However you decide to enjoy your outdoor springtime or summer stroll, we know the fresh air and sunshine will make it a memorable one.
maple syrup
Sample Toronto's Sweetest Maple Syrup
Tap into spring and indulge in one of Toronto's favorite seasonal treats. Every year, running straight from our trees, maple sap is carefully crafted into some of the world's finest syrup and sweets. And this year, on March 14th and 15th, sugaring experts are serving up their first and finest of the season to you. Find Sugar Shack TO from 11-5, less than 10 minutes drive from the Ivey Donald K. Johnson Center at Sugar Beach. Try delicious maple taffy, made from soft and sticky maple candy hardened on ice. Sample natural syrups and maple creams, and wash it all down with a glass of hot mulled cider. There's live music, too, and a chainsaw battle to prove who can carve the best ice sculpture. Sample sweet and savory French Canadian treats at the winter marketplace and leave feeling full of excitement for spring. Sugar Shack TO is proof that the next season is right around the corner!
truffles on chefs board
Whet Your Appetite for Winterlicious
Winterlicious might be as fresh and fanciful as it sounds. Did you imagine a food festival, ripe with rich and comforting winter-inspired cuisine? Then you'd be right! It's the complement to Toronto's annual Summerlicious food-fest and features the city's very best gourmet eats. Beginning January 31st and ending February 13th, you'll have ample time to taste on tour during your visit. Every day features a unique Culinary Event, including Edible History, Afternoon Teas, The Art of Pizza Making, a fireside feast, literary-themed meals and more. Find details on the City of Toronto's website or go straight to the featured restaurants whose names and locations are mapped-out here. Should you choose, many of the participating restaurants will offer selections from their regular daily menu as well. Want more details? Stop by Toronto's City Hall for a small printed Winterlicious guide. Hours, reservation information, fees, and some menus are included.
girl tying ice skates
Spin into 2020 on Skates
Skate into the new year on a new rink! For the first time ever, Toronto flooded and froze Union Station to become the largest outdoor ice skating rink in the city. Skate under the twinkling lights for free—skate rentals included! The rink at Union Station's John A. MacDonald Plaza opened to skaters back in December and will remain open until January 4th, giving the ever-popular Nathan Phillips Square rink its first competition. New skaters are encouraged to come for a spin, too, with helmet rentals and lessons also offered for free. But don't despair if you won't make it to Toronto before the 4th—the city caters to skaters all winter long. Find a covered rink with a warming room at Greenwood Park, a pond-sized rink at Ryerson Park, a place to push the puck at Christie Pits, or a rink with a view at Sherbourne Common.
holiday sheet music with christmas ornaments
Pop-up Concerts, Lights, and Art to Inspire and Delight
Saturday's in December, watch live music pop-up at rotating parklets along King Street. Discouraged by the thought of standing out in the cold? Don't be! Warming stations, hot drinks, and baked goods are sure to sweeten the deal. December 7th, warm up with solo trumpeter, Michael Louis Johnson followed by award-winning blues guitarist, Adam Solomon. December 14th, keep the beat with Little Rambunctious, a self-described brassy interactive on-the-spot songwriting act. And on December 21st, celebrate the Winter Solstice with Ukranian winter carolers, Kosa Koliadnyky. Each of the performances begins at noon and ends at 3:00 pm. And if you're feeling so inspired, pop into the nearby Making Room—a collaborative community space designed for interdisciplinary artists. After dark, see the Aurora Winter Festival on Ontario Place West Island. Back for its second year, the winter wonderland is sure to dazzle your inner child with stunning light installations, fabulous food, marketplaces, amusement rides and more.
man in art museum
Visit the Art Gallery of Ontario
It's a cold Wednesday night in November and the day's events are finished at the Ivey Donald K. Johnson Center. But after a full day spent inside, you can't bear to spend the night inside, too. Where to go? AGO! Every Wednesday night, from 6 to 9 pm, the Art Gallery of Ontario treats you to a free night with the masters. AGO boasts 95,000 works from contemporary to traditional art, with Canadian artists featuring prominently in the mix. The museum's website details each collection so you can plan how to spend your time. Most other days of the week, AGO schedules performances and screenings, courses, and talks with the museum's docents and visiting curators. There are even activities for youngsters. There's always something new to see and to learn at AGO, and it's just around the corner!
raw cholocate
Melt into a Month of Chocolate
If you think this sounds like a good idea, wait until you taste it. The 14th annual Toronto Chocolate Festival melts deep into the month of October, giving you 30 days to delight in the city's most delectable chocolate. Indulge in a Chocolate Afternoon Tea, attend the "50 Shades of Chocolate" themed Chocolate Ball, save room for a multi-course Chocolate Dinner, take the Ultimate Chocolate Tour, and send your tastebuds on overdrive at the Blind Wine and Chocolate and Craft Beer and Chocolate pairings. Finally, don't miss the Ultimate Chocolate Relay Challenge. Sit back and laugh as teams of Police, Firefighters, and EMS chow-down in a race to win the annual Chocolate Bowl. They're eating for charity and so are you! Partial proceeds from each event are donated to the Prostate and Breast Cancer Initiatives Fund. Find locations and ticket information on the festival's website. Chocolatiers unite!
toronto skyline with cn tower
"Look, Mom, no hands!"
Look up! Are those people leaning off of the CN Tower? Yes! It's Edgwalk, the world's highest, full-circle hands-free wild walk, 116 stories above street-level. For half an hour, visitors walk in groups of six, while attached to an overhead safety rail via a trolley and harness system. Trained guides hang-out with you to push personal limits, and encourage the brave to lean over Toronto with nothing but air, and views of Lake Ontario beneath them.
Edgewalk is designed with the highest international safety and security standards and includes a comprehensive safety orientation. Tickets start at $195 CAD (plus tax) and include a keepsake video, printed photos, and a certificate of achievement. Extreme weather, including high winds and electrical storms, present the only weather that will cancel walks. You'll be given a special walk suit to wear over your clothes as well as non-slip rubber shoes, but it's still up to you to dress for warmth!
distillery
Feel the Charm of Toronto's Distillery District
Enjoy a summer evening out in this 13 acre stretch of historic Toronto. The Distillery District boasts the largest number of Victorian industrial buildings in North America. Once home to Gooderham and Worts, the biggest distillery in the world, the Distillery District has turned its barrel-aged reputation into a trendy, must-see, date night destination. With plenty of boutique shops and inviting restaurants, plus a microbrewery, sake brewery, and chocolate factory, there's something to satisfy everyone's tastes. The area is designated for pedestrians and cyclists only, which means that you and yours can sip, stroll, and shop without a care in the world. Architects have married the industrial feel with creative contemporary practicality, making it a beautiful walk, even if you don't have much time to shop or nosh. Check out the calendar for seasonal events like the Toronto Light Festival we featured in February. Distillery District charm transcends the seasons!
fresh fruit at market
Taste Fresh at the St. Lawrence Farmers Market
A city landmark more than 200 years old and more than 200 vendors strong, the St. Lawrence Farmers Market is sure to fill you with the most mouthwatering and memorable food Toronto and its neighbors have to offer. Get the most out of your visit by getting there early. Located on the southwest corner of front and lower Jarvis Streets, vendors are ready to greet you beginning at 5 am on Saturday morning. The produce won't be picked over and bread will still be warm if you're there in time to get first dibs. It's also the best time to speak to vendors about the sweet path that berry you'll sample took before reaching your mouth. Private market tours are offered Saturday's during summer as well as a variety of cooking classes. South Market, with a different variety of artisan selections, is open Tuesday through Friday. Come taste fresh!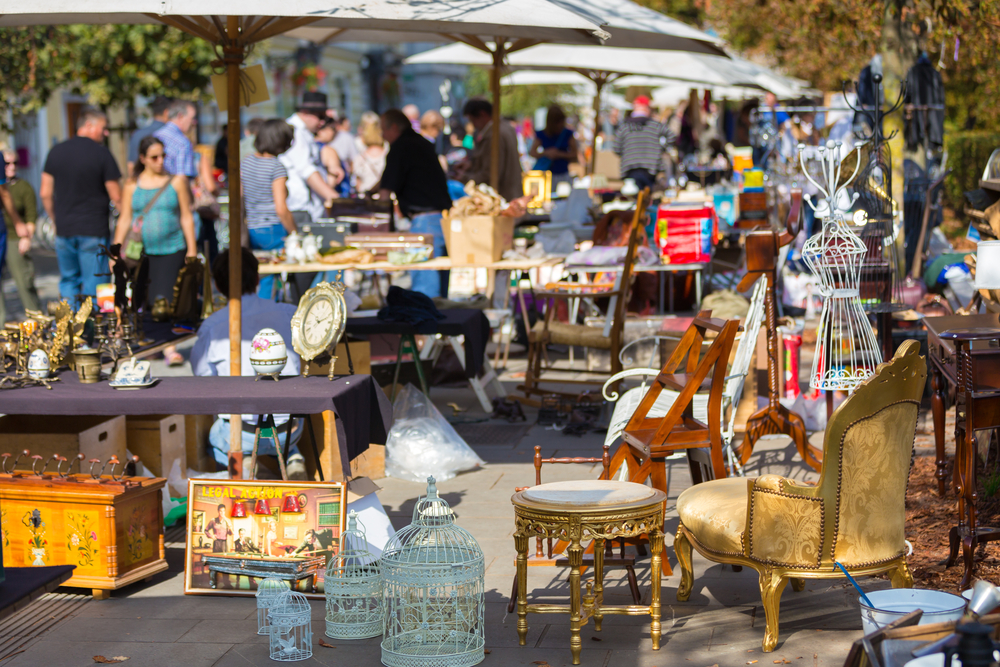 flea market
Leslieville Flea Market
The Leslieville Flea Market is back for another romp in the sun. One of Toronto's most popular curated markets, the Leslieville Flea gathers together local artists and collectors to show and sell their wares. Once a humble pop-up in the Duke Tavern parking lot, the market has grown to fill out more than one location, including two acres of green space at the Ashbridge Estate and outdoors at the Distillery District. No matter where you go, or on which date you decide to visit, you can count on the very best food, craft beer, and music to quench your thirst for fun. Expect to join more than a thousand others as you visit vendors to score vintage finds, furniture, clothing, collectibles and antiques, and artisan jewelry. Better still, you'll get to talk to the makers and learn how the piece you bring home was made. Check out their official website for all of the details, dates, times, and locations.
toronto distillery district
Redefine Cool in West Queen West
Get down with the hipsters in Toronto's coolest neighborhood, West Queen West. It's not a title the city gave itself, but one that was given to it by the style legend Vogue. This trendy neighborhood, wedged between Chinatown to the east and Little Portugal to the west, gets its reputation from having the most art galleries in one place in the city. And that's not all. Add to the list, stylish boutiques and vintage shops, live music venues, restaurants and bars. It's a place without any specific large tourist attractions so plan to blend in with the shoppers, diners, and if it's warm enough, sunbathers. Trinity Bellwoods Park is tucked inside, too, so bring a frisbee and your dog! If you're not up for a sit-down meal, follow your nose to one of several hole-in-the-wall bakeries. And after dark, grab a drink and dance at one of the bars on the South end of Ossington Avenue. West Queen West is a neighborhood you won't want to miss!
sakura blossom
See Spring in Full Bloom
We have a colorful day planned for you and it starts in High Park to see the flowering cherry trees. Toward the end of the month and into May, think pink and walk amongst the delicate blossoms. More sights to see on the rise at Scarborough Bluffs. Pack a lunch to enjoy at the picnic tables above or on the sandy beaches down below. Hiking trails are marked for all levels of walking. If it's Easter Day, don't miss the Beaches Easter Parade. All along Queen Street, watch the bands and collect free chocolate eggs! Every other day of April, trade the pomp and circumstance for spring flowers at Allan Gardens. Free to the public, it's a gimme for flower lovers. A leisurely stroll through the fragrant greenhouse and you'll forget winter ever happened. End your day at Polson Pier to watch the sun set over Toronto's sparkling skyline.
wooden stairs beach boardwalk
Expand Your Mind at Winter Stations
When creative minds become masters in design, Winter Stations is the resulting genius. Revered by Canadians and people the world over, this interactive series of award-winning installations invites members of the public to step into global issues and try on new perspectives with perfect strangers. "Above the Wall" offers more than a good ocean view. As visitors climb stairs from one side of a symbolic wall affixed to the lifeguard stand on Woodbine Beach, they have the opportunity to pause at the top and befriend the person who has ascended the stairs from the opposite side, thus transcending the barrier meant to divide. Othe exhibits include the Forest of Butterflies, the Cavalcade and Mind Station. And each is intended to stimulate the thoughts of its visitors by challenging individuals' values through a global lens. Find these temporary public art installations affixed to the lifeguard stands along Ashbridges Bay, east to Balmy Beach until April 1st.
red and blue neon lights on Toronto high rise
Be Illuminated at the Toronto Light Festival
Last year 200,000 illuminated gummy bears set aglow Archeo Patio in old-town Toronto. This year 13 acres of equally creative light displays will dazzle your sites. From January 18th through March 3rd Toronto welcomes you to its spectacular Light Festival. 44 buildings will glow in a spectrum of color. See one for each of the festival's 45 days or do a grand tour. Walking the city is free, so you can take your pick and do it all over again!
The old Victorian industrial buildings set alight compose much the city's historic neighborhood. But not all of the lights are grounded in history. Some displays give the illusion that they're floating. Others are interactive. All are the creations of local and international artists. So bundle up and get outside for an illuminating evening. Toronto's third annual Light Festival will be sure to lift even your darkest winter doldrums.
ice skater under black lighting
Skate the Bentway Trail
Go for it Blade Runner! Toronto's Bentway Skate Trail has iced a path just for you. The slick 1.75 km trail runs in the shadow of the Fred Gardner Expressway. That means it's neighbor to Fort York Historic site and a short walk from almost every major downtown attraction. There's ample parking for drivers and streetcar stops along its length from Strachan Avenue to Bathurst Street. Plans are underway to stretch the trail to Spadina Avenue.
When you tire of skating or reach the end of the trail, nearby Liberty Village will charm you with its restaurants, pubs, and coffee shops. Take a hot chocolate to go and stroll along the shore of beautiful Lake Ontario. It might be hard to imagine, but during the summer, the Bentway Trail is known for its pop-up art exhibits and craft markets. Only Toronto's winter visitors get to enjoy the privilege to skate!
dangling star-shaped Christmas lights
Get in the Spirit at Toronto's Christmas Market
Indulge your senses at the Toronto Christmas Market, where each day of the week until December 23rd, holiday-themed entertainment will steal the spotlight to delight your inner child. 400 free performances light up the main stage including award-winning singers, brass bands, carolers, and even a daily sing-a-long with Santa's elves. There's truly something for everyone. And that's not all. Wind through a textured maze of artist vendors selling their craft. Find a souvenir and follow your nose to grab a delicious bite to eat. Try Santa's BBQ, stollen, waffles, Canadian poutine, and gingerbread. Then wash it down with a visit to one of the market's jolly beer gardens. Mulled wine, Christmas cocktails, hot toddies and a variety of craft beers are for sale under the glow of heated lamps and crackling fires. Admission is free until 5 pm on weekdays and weekend tickets are available on the market's website for only $6 each.
If it's whimsy you seek, lose yourself in the hidden village at the Aurora Winter Festival in Toronto's Ontario Place. From now until December 30th, you can visit Santa's Workshop or catch the forest nymphs flitting through fantastical light displays. Enjoy the market huts, food and beer gardens, amusement rides, live entertainment, and other activities with your family and friends. Don't miss the Festival's inaugural year! Tickets are available online.
hand on piano keyboard
Free Concert Series in Downtown Toronto
Steal away for an afternoon of free music at the Four Seasons Centre for the Performing Arts, walking distance from our Ivey Donald K. Johnson Centre. Every Tuesday and Wednesday in November, the Canadian Opera Company has invited world-renowned musicians to dazzle your senses inside the breathtaking Richard Bradshaw Amphitheater. As part of its Free Concert Series, you'll experience a collection of vocal, piano, jazz, dance, chamber and world music performances.
Admission is first come, first served so don't delay! Trust us when we say that the concert is not only a feast for the ears but for the eyes! From your elevated seat, you'll enjoy an exclusive view through the glass wall onto the hustle and bustle of holiday traffic as it zips along Queen Street West. And while you're there, don't miss an opportunity to secure a seat at the opera or ballet. The theatre is the first of its kind in Canada, with unparalleled acoustics for the performing arts.
catering canapes for party
How To Make Your Holiday Party A Culinary Masterpiece
At Ivey Donald K. Johnson Centre, we believe a great party begins with a great menu. Rose Reisman Catering, our onsite caterer, shares our passion for making food the focal point of every festive holiday gathering. Whether you're planning a formal soiree or a casual get-together with colleagues, Rose pulls out all the stops, showing her culinary creativity in flavorful menus that shine with originality and holiday spirit.
We caught up with Rose in the catering kitchen to sneak a peek at what she's planning for the upcoming holiday season and, suffice it to say, her hand-crafted menus are a work of art. Highlights include the crowd-favorite Rose's Braised Beef Brisket Au Jus garnished with Roasted Cipollini Onions; Pan-Seared Chicken Supreme with Sun-dried Tomatoes, White Wine and Lemon Herb Sauce; and classic Farro & Arugula Salad with Chickpeas, Green Onion & Cherry Tomatoes.
a city skyline across the water
Get Outdoors After a Long Day in the Office
Turn your work trip into an urban adventure. This month, we're here to share some of the best things you can do in Toronto. Pick one if you can only spare an afternoon, or experience a few if you stay the weekend. We'll be happy to point you in the right direction, should you need advice once you're here. Summer really is the best time to visit Toronto, so get out there and enjoy it!
Learn More