Skip to Content
Nestled in the Heart of Toronto's Financial Hub
Professionals will delight in having Toronto's bustling Financial District right outside our doors. Our convenient downtown location at King & York Street provides easy access via PATH, the underground walkway, subways and Union Station. Additionally, just a short walk or cab ride away from our conference centre, you will find many landmarks and tourist attractions, including the CN Tower, Rogers Centre, Air Canada Centre, Metro Toronto Convention Centre, Harbourfront and Toronto's Theatre District.
a group of people standing in a room
Financial District
This district is home to the headquarters of major Canadian banks, including:
Royal Bank of Canada (RBC)
Toronto-Dominion Bank (TD)
Bank of Montreal (BMO)
Canadian Imperial Bank of Commerce (CIBC)
Scotiabank
Our city is also home to the Toronto Stock Exchange (TSX), miscellaneous distinguished Law Firms, and Investment Companies.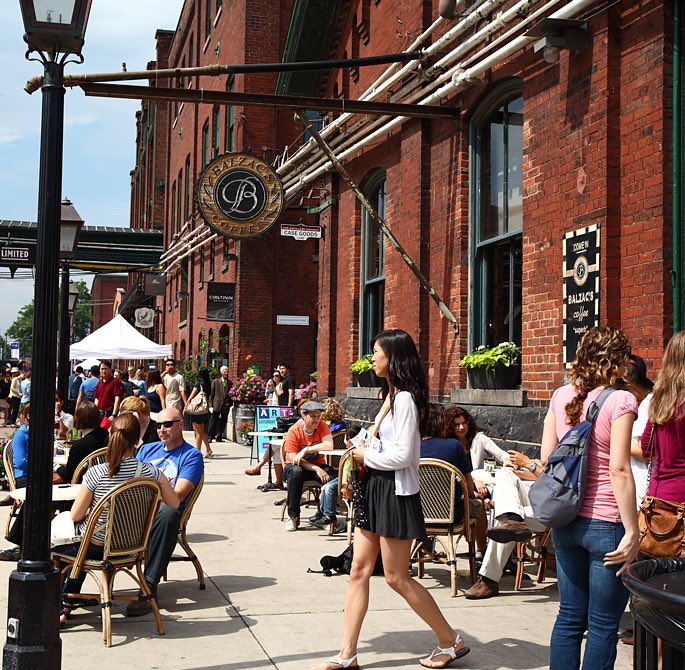 people walking and dining outdoors on the street with shops
Restaurants
Toronto is home to an eclectic food scene, inspired by the multicultural diversity of its residents. Downtown is home to several distinct districts serving up an authentic variety of cuisines.
King Taps

100 King St. W., Toronto, ON, M5X 1E1

Cactus Club Cafe

77 Adelaide St. W., Toronto, ON, M5X 1C1

Black + Blue 130 King St. W., Toronto, ON, M5X 1A9
an architectural mansion made with gray bricks
Attractions
At the heart of downtown, our centre is a short distance away from an unlimited amount of attractions showcasing the cultural diversity and liveliness of Toronto, Ontario.
CN Tower, 301 Front St W, Toronto, ON M5V 2T6, Canada
Royal Conservatory of Music, 273 Bloor St W, Toronto, ON M5S 1W2, Canada
St. Lawrence Market, 93 Front St E, Toronto, ON M5E 1C3, Canada

Ripley's Aquarium of Canada 288 Bremner Blvd, Toronto, ON M5V 3L9

Four Seasons Centre for the Performing Arts 145 Queen St W, Toronto, ON M5H 4G1

Princess of Wales Theatre 300 King St W, Toronto, ON M5V 1J2
Monorail with hi-rises in the background
Transportation
Billy Bishop Toronto City Airport YTZ - 2.7 kms (1.24 miles)
Toronto Pearson International Airport (YYZ) – 24.14 km (15 miles)
Easily accessible by Go-Transit and TTC
7-minute walk from Union Station
Underground PATH accessibility